This is the fourth consecutive month that iPhone 13 topped the Chinese smartphone sales chart.
iPhone 13 (iPhone 13 version only, excluding other versions) was the best-selling phone model in China in January with sales of 2.3 million units, according to CINNO Research data.
This is the fourth consecutive month iPhone 13 topped the sales chart (including October to December of last year). Six years earlier, there was no iPhone topping this chart.
The iPhone 13 accounted for a significant portion of Apple's total January sales in China, with the company in total selling 5.1 million units, up 11.4% from January of last year.
In a larger context, a total of 30.87 million smartphones were sold in January in the Chinese market, almost on par with last year (+0.4%) but 38.6% higher than last year. December because January is close to the Lunar New Year and demand is high, according to CINNO Research.
Leading the way is OPPO with 5.4 million units, down more than 20% compared to January last year. Note that these numbers do not include Realme phones. OPPO's best-selling phones are Reno 7 5G and A56 5G.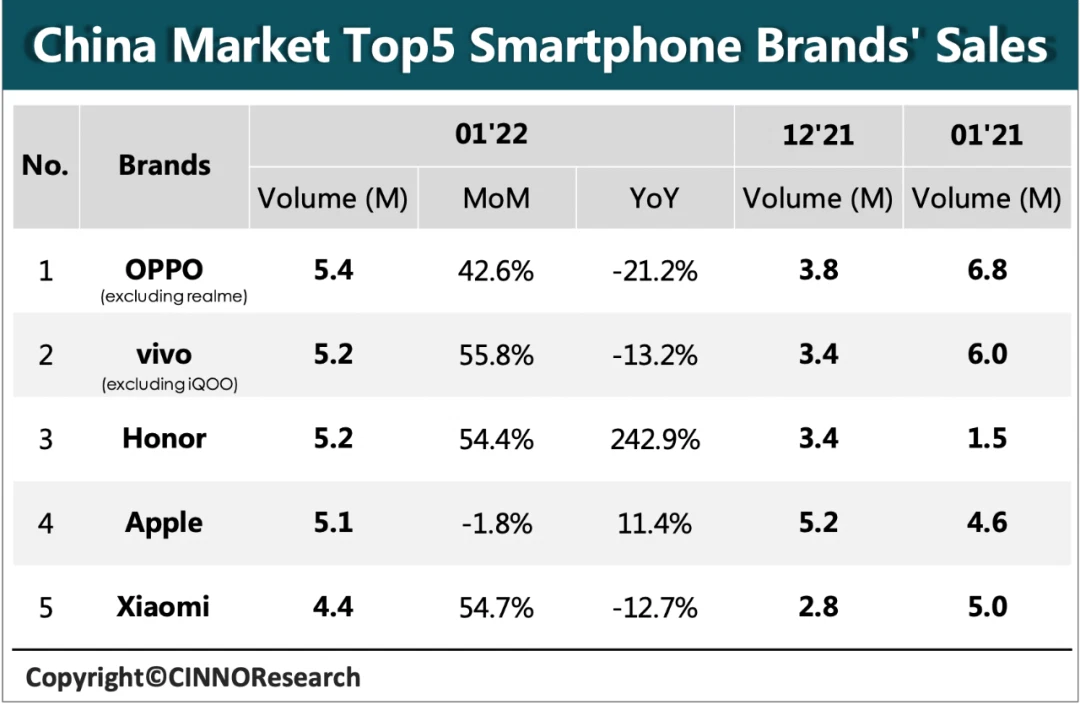 Vivo (excluding iQOO) is in second place, slightly ahead of Honor. vivo also dropped 13.2%, while Honor more than tripled its sales in January compared to last year.
The best-selling Vivo phone is Vivo S12. As for Honor, many models have made it to the Top 10: Honor 60, Honor X30, Honor Play 30 Plus, and Honor Play 20. Huawei is not even in the top 5.
Meanwhile, Xiaomi dropped to 5th place with a decrease of 12.7% compared to last year. The figure of 4.4 million units means that the company has been surpassed by both Honor and Apple. The Xiaomi 12 series (launched in December) was not enough for the company to surpass its competitors.