Recently, MacRumors reported that Apple is developing an iPad Pro version with a 14.1-inch screen using mini-LED panels. This information was provided by analyst Ross Young of Display Supply Chain Consultants (DSCC).
Accordingly, Ross Young confirmed that the new iPad Pro model will use the same mini-LED screen as the current 12.9-inch version, but expand the screen size to 14.1 inches. This monitor will also feature 120Hz ProMotion. However, currently, this iPad model is only in the development stage and has not had an official launch time. Ross Young also predicted that this iPad model could launch in early 2023 or later.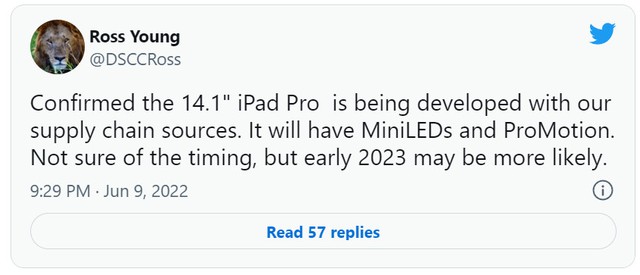 Previously, a well-known leader in the technology world, Majin Bu, also posted a leak saying that Apple is developing an iPad Pro M2, equipped with a 14.1-inch screen, 16GB RAM, and 512GB memory for the standard version. , this level of capacity is on par with the standard version of the 14/16-inch MacBook Pro. The iPad M2 line is said to include all 3 versions: 11 inches, 12.9 inches, and 14.1 inches.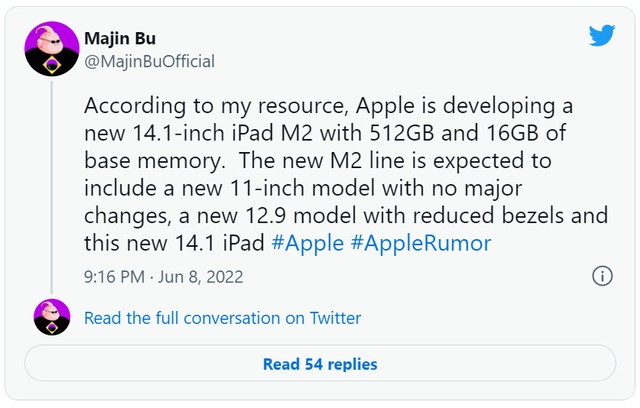 Also according to Majin Bu, the 11-inch iPad Pro will only come with the new M2 processor without any design changes, while the 12.9-inch version will have thinner bezels. Obviously, the launch of the new Stage Manager feature is to help the iPad take advantage of the large screen space, especially the 14-inch version with a screen as big as the MacBook.
Both Majin Bu and Ross Young predict the new iPad Pro M2 series will be introduced in 2023.